CONSTRUCTION MONTREAL
RENOVATION MONTREAL
ENGINEERING AND ARCHITECTURE
PROJECT SERVICES
INVEST IN REAL ESTATE
INTERNSHIPS, TRAININGS AND JOBS
Company Internship in Montreal Job for Engineer Architect Technician in Construction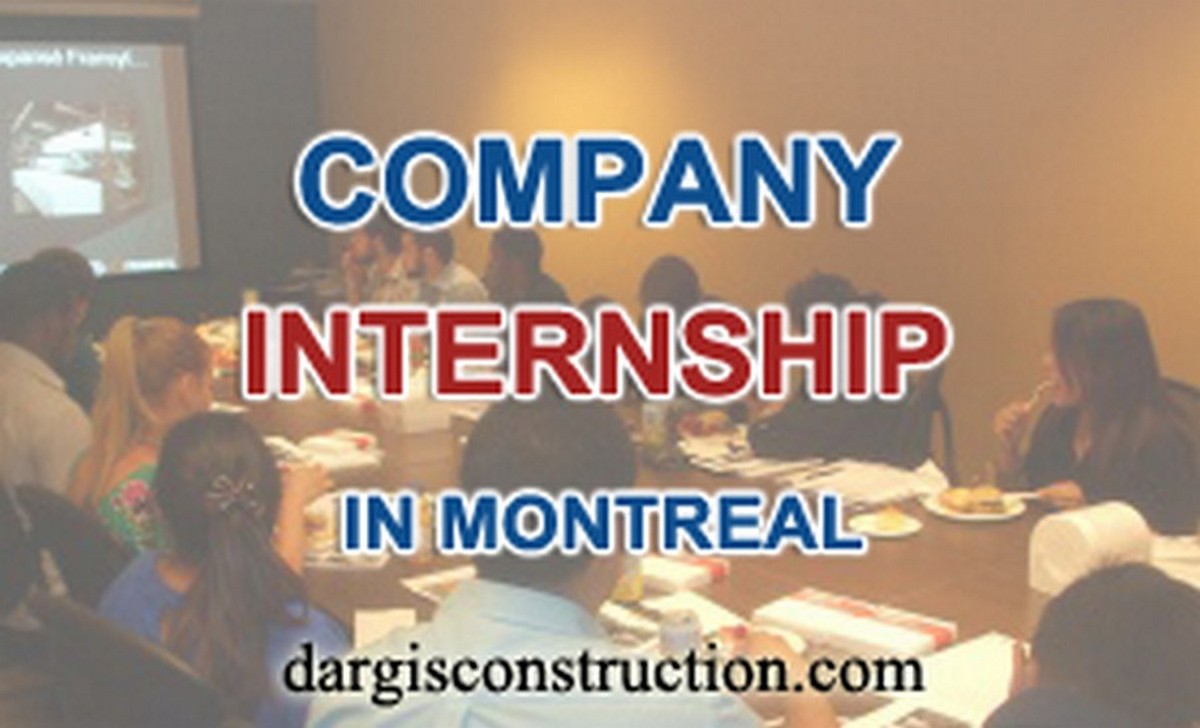 Getting a first job represents a challenge whether it is for college and university graduates or for engineer, architect or technician immigrant professionals to whom we ask for the famous Canadian work experience. Nonetheless, there is a construction company that hosts graduates and immigrant professionals by giving different type of company internships and access to a staff renting and placement system. Innovative solutions of work experience that lead to employment are presented in this website: WWW.WORKEXPERIENCEINCANADA.COM
Construction Daniel Dargis Inc. is a business that specializes in construction, engineering, architecture and all kind of building design. The company hosts more than 100 interns per year by offering 2 type of of programs of internship, training and employment:
Internship with the possibility of remuneration after training against payment;
Free unpaid internship.
In both cases it is an unpaid stage through which the interns gain a first work experience.
Internship with the possibility of remuneration after training against payment
This training internship is made for the immigrant and the professional that does not have a training or sufficient perpetration to obtain a first job and who needs a greater supervision in order to be ready for the job market such as : teaching of Autocad by real practical projects, Revit, Sketchup, knowledge of the imperial system, drafting of rapport in construction in Quebec, how to manage projects, subcontractors and contractors in Quebec, without a vehicle and no means of visiting clients and bringing complete projects to a completion. It is for professionals who are not yet ready to meet employer requirements. Also for, professional contractors that wish to start a company in Canada: At the start of the internship training program there is no remuneration but gradually, once the candidate acquires enough knowledge, he has the possibility to participate in projects and receive compensation on presentation of invoices under the autonomous workers employment status in: building design, 3D modeling, structure design, marketing and sales and other. The conditions, regulations, terms and costs to join such training internship programs with access to the self-employed workers service are found in the sections ABOUT US and PROGRAMS on Site:
WWW.WORKEXPERIENCEINCANADA.COM
Free unpaid internship
This internship is for professionals that are well prepared and equipped, college and university graduates from Quebec and immigrant who graduated from Quebec, coming from specific schools that have an agreement with the enterprise. Students should have the knowledge in building design, construction, the NBC or with ACS in construction in Quebec with excellent knowledge wood structure buildings components as well as a vehicle in order to work on projects outside of Montreal in construction areas, but without sufficient experience to convince an employer tin order to get a first job. It is also necessary that candidates demonstrate a determined attitude and a schedule allowing them to be at the office or on the work site on time from 7am - 5pm and sometimes later: Construction Daniel Dargis Inc. trains interns in order to find for them a job, in a short period of time, with a system of staff renting. Interns look for job opportunities while they receive a practical training within the business. Internship students can take advantage of our recruiting service that allows them to increase their chances to get a job in a period of 5-6 months of practice in enterprise. Construction Daniel Dargis Inc. gets more than 300 project offers a year in construction, engineering, architecture, design and construction related. This great volume of projects allows more than 100 interns a year to receive a practical training, by doing:
Building inspections ;
On-site surveying ;
Structural calculations ;
Building design ;
Report drafting ;
Project management ;
Customer service ;
Marketing, communication and business development ;
Accounting and administration.
This large variety of practical projects and responsibilities prepares the interns to develop an independence and versatility and have greater self-confidence in Quebec projects as well as having a better understanding of the reality of the work thus be better prepared to become prime candidates for employers. Job seekers and employers looking for candidates specifically trained in-business in Quebec,
do not hesitate to contact us!