CONSTRUCTION MONTREAL
RENOVATION MONTREAL
ENGINEERING AND ARCHITECTURE
PROJECT SERVICES
INVEST IN REAL ESTATE
INTERNSHIPS, TRAININGS AND JOBS
Internships and jobs for immigrants in Montreal engineers architects technicians in construction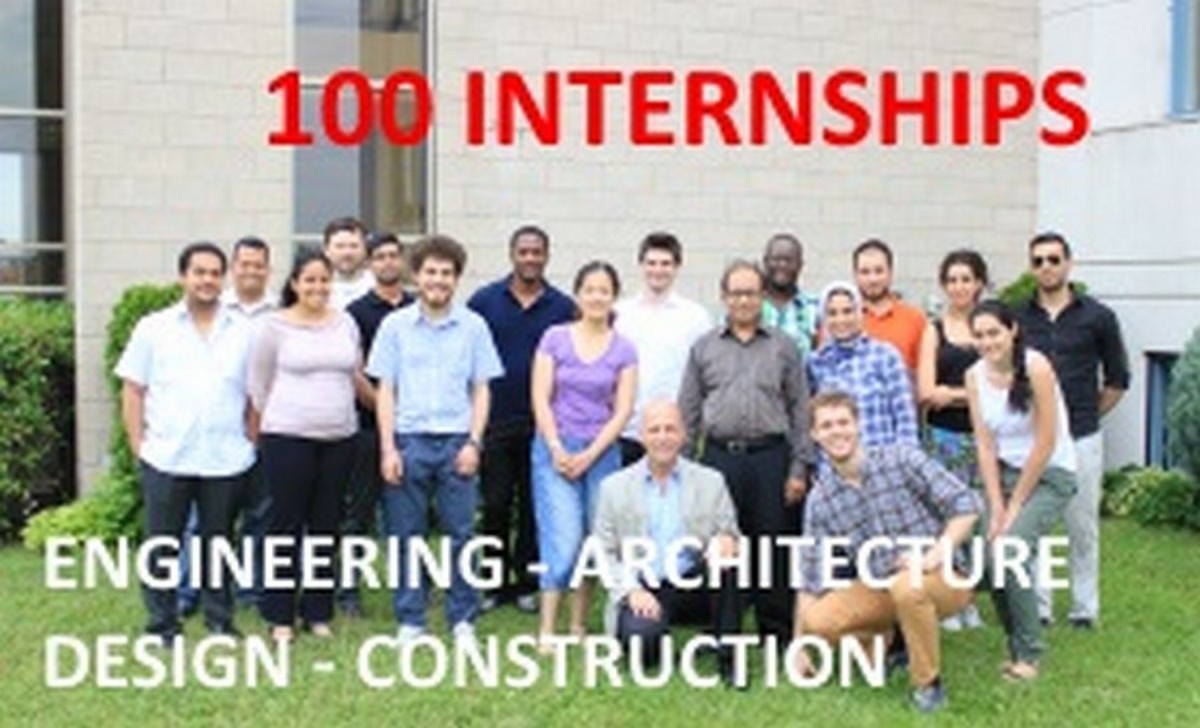 Since January 2014, a new integration into employment and internship program is offered to immigrant professionals, students of colleges and universities and graduates in engineering, architecture, design, building design and construction. This employment integration program was a huge success and hosted more than 200 interns in a single company between 2013-2016. These innovative solutions of getting practical experience in a company are presented on this website: www.workexperienceincanada.com
This internship program and job training is not free. It aims at enabling the candidates to obtain a first work experience which subsequently will allow them to make money gradually as self-employed worker or obtain a job more easily. This program is offered by Construction Daniel Dargis Inc. which turns into business integration and training to allow job seekers to work on practical projects and at the same time be referred to the other business. It is by being directly in action through internships and training in business and in concrete projects that the candidates learn to adjust to the reality of the job and quickly find a job.
Construction internships for new immigrant engineers, architects and technicians
Construction Daniel Dargis Inc. is a company that specializes in construction, engineering, architecture and design of all types of buildings. By receiving more than 400 requests for projects/year the company can offer practical projects as core training to allow the new entrants and graduates to better know what they need to improve in order to find a job: specialized software learning, attitude at work, special knowledge in building in Quebec and Canada, the necessity and reality of owning a car, cell phone or a laptop, initiative, autonomy and many other items. Writing well a CV and knowing how to speak in an interview is important but there is more than that. There is nothing better than to be immersed in the action to learn the reality of work in Quebec and know what to focus on to become a candidate of choice for businesses.
Tasks during training courses for engineer, technician in civil engineering and architect
Interns are involved in many various tasks in order to obtain an exceptional job preparation, such as: practicing and making plans on several softwares used in Quebec in construction and architecture such as: Autocad, Revit, SketchUP, 3D Max, use the Imperial measurements, learn the NBC Building Code in Quebec, survey on construction sites, draft engineering reports and supervise teams, deal with contractors and suppliers, arrange meetings with clients and many other tasks. The future engineer, architect or engineer is then powered in the practical reality and out of the universe of schools and aid agencies to writing CV and job search.
Conditions of membership for internships and training for job seekers
The conditions, terms, regulations and costs to adhere to company internship programs offered by Construction Daniel Dargis Inc. can be found in sections of the menu ABOUT US and PROGRAMS on Site: www.workexperienceincanada.com
Certain other conditions must be met to take advantage of the internship such as owning a laptop. Punctuality is mandatory and the languages used in the work are French and English.
Immigrants on probation from all nationalities
The company Construction Daniel Dargis Inc. employs trainees from several nationalities such as: Venezuela, China, France, Algeria, Morocco, Tunisia, Turkey, Iran, Bangladesh, Sri Lanka, the Dominican Republic and Africa. In fact more than 90% of the company is made up of immigrants and professionals from different countries. It is not uncommon to see engineers or architects from different regions of the globe work together on the same project, share their experiences and learn under the supervision of the General Director Mr. Daniel Dargis Canadian engineer and general contractor.
Construction Daniel Dargis Inc. trained students to find them in a short time a job by a staff leasing system. The trainees also seek employment opportunities while they receive practical training in the enterprise. All trainees benefit from a system of internal recruitment to the company allowing them to increase their chance to get a job in a period of 3-6 months in enterprise. Construction Daniel Dargis Inc. receives more than 400 requests for projects/year in construction, engineering, architecture, design and construction business. This large volume of projects gives the chance to more than 200 students per year to receive training practice, by:
Building inspections;
Building surveys;
Structure calculations;
Design and plan of buildings in Autocad, Revit and SketchUp;
Drafting of reports;
Coordination and project management;
Customer assistance;
Marketing, communication and business development;
Accounting and administration.
This wide variety of practical projects and responsibilities prepare professionals newcomers, immigrants interns and graduates of colleges and universities to develop an autonomy and versatility and have greater confidence in them in the projects in Quebec and to better understand the reality of work and thus be better prepared and become the candidate of choice for employers.
Do not hesitate to contact us!