CONSTRUCTION MONTREAL
RENOVATION MONTREAL
ENGINEERING AND ARCHITECTURE
PROJECT SERVICES
INVEST IN REAL ESTATE
INTERNSHIPS, TRAININGS AND JOBS
ENGINEER LEAD PROJECT MANAGER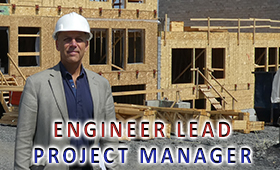 The project engineer is also called in English the "Engineer Lead Project Manager" or PM. He is an expert who is mainly responsible for the construction of a project. He normally works under the supervision of a project manager. Sometimes directly for his self-builder client or real-estate investor with simultaneous dual roles: engineer lead project manager and project manager. Therefore, he must be versatile and able to execute, coordinate and thoroughly understand all aspects of the execution of the project. Some engineer lead project managers have more technical knowledge; others are administrative experts, while still others have extensive expertise in marketing or communications and human relations.
Depending on the project, the engineer lead project manager will be required to interact with specialists in each sector of activity. For instance, an engineer lead project manager for an engineering firm will be involved in calculation, design, and construction site supervision. While a real-estate engineer lead project manager will do more work specialized in coordinating contractors and subcontractors, and he will monitor the operations, costs and manage the extras. Very rarely will he be involved in advertising for the sale of houses or condos. It is rather the manager of the project, the engineer lead project manager, and the real-estate investor who will deal with marketing and sales' contracts. Or he will delegate this task to real-estate brokers.
Daniel Dargis is an engineer lead project manager, general contractor and marketing expert. For 40 years he has been in charge of all aspects of construction, from the mounting of the project, the feasibility study, the supervision of the plans, the management of the company, the supervision of building sites as well as marketing and sales.
Here are some links that illustrate the expertise of engineer lead project manager Daniel Dargis eng.: Project Management of New Houses and then as an engineer on the construction site Structural Building Engineer , and expert Consultant Engineer Freelance Project Manager and finally as an expert in Marketing for Real Estate Projects. All of this makes Daniel Dargis, engineer lead project manager, an expert in construction business management and real-estate projects with over 40 years of experience.
ROLE AND TASKS OF THE ENGINEER LEAD PROJECT MANAGER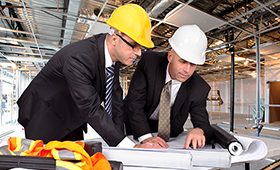 The main role of the engineer lead project manager is to ensure the smooth and safe execution of the work, respecting the budget, the quality of work and the time schedules. The engineer lead project manager can take on several projects at once. So, it is necessary that he knows how to manage the work pressure. If it concerns a matter of helping a self-builder for a small construction work site like the enlargement of a house, for instance, or the construction of a triplex, he will work directly under the supervision of the investor, i.e. the owner of the building, also called project manager. On the other hand, if the engineer lead project manager works for a consulting engineering firm, a general contractor or a real-estate investment firm, for the construction of several hundreds of condos, he will certainly work for a project manager who will answer for a VP of construction operations. The VP of the president of the engineering firm or contractor who himself works on behalf of the real estate-investor.
The tasks of the engineer lead project manager vary and depend on the company, the projects, his experience and skills. He needs to be able to manage several tasks at once and be able to work in teams with specialists in each sector: security, accounting, the superintendent of the work site, the municipal permit office and management. For small projects from 50K to 10M, for a general contractor, tasks can be to estimate, coordinate and control construction projects of varying sizes. For a building structure engineering firm these tasks can be to check and supervise the structural design work and even to make structural calculations, and then to coordinate the installation work. This is always done in the context of safety, cost and quality control and timeliness.
In a more detailed way these tasks can be, to:
Guarantee health and safety standards for the workers and work site visitors;
Track, document and update the budget, manage changes and addenda for each project;
Manage extras due to changes made by buyer clients. Ensure that the new contractor costs are accepted by the clients;
Establish timelines and monitor all project implementation activities;
Participate and preside over work site meetings between the contractors and the investor client;
Validate the delivery, quantity and quality of the materials on the construction site, prepare purchase requisitions and ensure the completion of documents and drawings required for construction or renovation work;
Provide the necessary information for the preparation of invoices to the accounting department;
Prepare monthly and final project reports;
Guarantee and maintain a climate of trust with clients while protecting the company's business relationships;
Identify and fix problems.
So, we see that the role and tasks of the engineer lead project manager are varied and require that he knows how to handle stress, to be able to work in a team and to perform more tasks at a time. Daniel Dargis, engineer lead project manager, with more than 40 years of experience, acts as manager and as engineer lead project manager.
SKILLS REQUIRED OF AN ENGINEER LEAD PROJECT MANAGER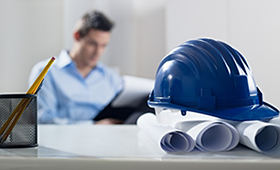 The skills required to be a good engineer lead project manager are not only his knowledge and experience, but especially his attitude and relationships. Although it is desirable to have an engineer lead project manager with great technical knowledge, it is also important and even more so to maintain harmony throughout the project. Daniel Dargis, engineer lead project manager and general contractor since 1989, has learned through experience that the human and social side is essential in the management of construction site operations. There is no point in having great technical knowledge, mastery of code and standards of construction, if in the end we find ourselves in conflict with each other for lack of organization, positive attitude, no proper way of expressing oneself and demonstrate respect towards one another. These points are crucial and fundamental!
Among the talents of a good engineer lead project manager, we find:
A positive and pro-active attitude towards solving problems for the respect of safety, costs, quality of work and deadlines;
Being an excellent communicator and convener. In fact, some engineers lead project managers learned the techniques of construction through experience rather than through studies and obtaining degrees and diplomas. On the other hand, they know how to maintain harmony and respect on the construction site by their ways of communicating;
A certain easiness of managing, of adapting to new situations and problems, of asking the right questions, learning new things and synthesizing information to make the right decisions;
Excellent technical knowledge and good experience on construction sites;
Self-confidence and ability to speak in public in order to lead and coordinate work site meetings;
Audacity to follow up on operations and to preconceive work site actions. Contact contractors and suppliers in advance to confirm their arrival;
Capacity to work independently as well as in a team;
Thoroughness and precision to update, organize and document all addenda to project changes;
Finally, add to that the excellent network of contacts of the engineer lead project manager. This often allows for providing solutions to problems.
SALARY AND REMUNERATION OF AN ENGINEER LEAD PROJECT MANAGER
In most cases the engineer lead project manager is paid on an annual basis. We therefore speak of a "set salary," regardless of the number of hours of work. However, he may receive a performance bonus at the discretion of the employer. On the OIQ site, the Ordre des Ingénieurs du Québec, there are tables of average salaries according to the experience of the engineer. The salary of the engineer is not subject to a union decree determining the minimum wage, as are the workers' wages (carpenters, electricians, plumbers ...) of the construction industry in Quebec under the vigilance or the watchful eye of the CCQ, the Construction Commission of Quebec. The salary of the engineer is therefore not protected by a policy or a collective wage agreement. The engineer is thus responsible for negotiating his salary with his employer.
First of all, it must be known that, in general, five major possibilities or career opportunities are available to an engineer when leaving university. These opportunities are the following:
project management or plant management;
design (calculations and plans) in engineering firms;
research and development R & D for a research centre;
lecturing in colleges or universities;
entrepreneurship as a general contractor, an engineering firm or being a real-estate investor.
After a few years of experience some engineers decide to work "freelance" on certain mandates as a consultant. We do not talk then about salary but rather call these consulting fees. The engineer agrees with his client upon a contract and then bills his client normally on a daily basis or in blocks of 4 hours. Travel expenses, lodging or accommodation allowances, document copying fees and more, are extra costs normally borne by the client. It is not uncommon that after 10-20 years in his career an engineer decides to work as a consultant. On the other hand, he himself will have to organize his pension plan because he no longer works as an employee. It is also possible for the engineer to offer his client a portion paid as a fee and another as a % of the project volume. This takes into account the responsibilities and the contribution of the engineer in the project through experience, his network of contacts, his contractor's license or other achievements. Over the years, the engineer may have acquired an RBQ general contractor's license. So, this RBQ license can facilitate the realization of the project for his client real-estate investor.
Daniel Dargis, trustworthy impartial engineer lead project manager and general contractor RBQ offers advantageous solutions for real-estate developers, entrepreneurs, investors and self-builders by charging fees per hour or per day as an engineer lead project manager.
THE IMPARTIAL ENGINEER LEAD PROJECT MANAGER - AN ASSET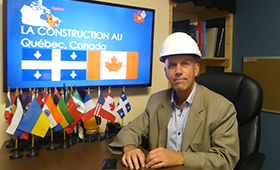 It is certain that having an impartial engineer as project manager is a major asset. Firstly, the engineer with his training in construction and his great capacity of adaptation and learning by himself is able to face the technical problems and make suggestions. The code of ethics of the engineer requires him to defend the interests of his client confidentially while remaining impartial as an expert. The many years of engineering studies and his practical experience make him an indispensable element for the good management of a project's operations. His career has demonstrated his perseverance and his determination to succeed in his own way of life and his ability to do the same with the projects of the clients for whom he works, whether it is for entrepreneurs, self-builders, real-estate investors or engineering consulting firms.
It is important, on the other hand, to choose an engineer lead project manager who also has a few good communication skills. Firstly, by mastering the languages of French and English in Quebec and Canada! Knowing other languages is also an asset if the engineer lead project manager is working abroad for instance. As an engineer, he is expected to know quite well the CNB National Building Code of Quebec and the construction techniques of RBQ general contractors. Many investors therefore prefer to choose an engineer lead project manager to manage their projects. Through his varied technical and communication skills the engineer lead project manager knows how to keep everything in balance and be an excellent mediator, advisor, consultant, coordinator and project manager.
Daniel Dargis, an experienced engineer lead project manager, offers excellent project management solutions for office work, on-site projects with outstanding communication skills and flexibility, which is a definite asset for the realization of your projects.
Do not hesitate to contact me!